DEEP ELLUM ARTS FESTIVAL
April 1st, 2nd & 3rd
- Ad-Libs performs on Friday, April 1st & Saturday, April 2nd @ 10:30 pm -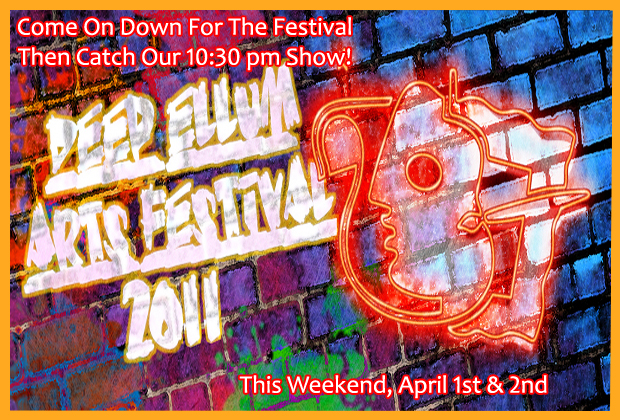 The 17th annual Deep Ellum Arts Festival rolls out the biggest party of the year. Six blocks of Main Street in the Deep Ellum entertainment district will be transformed into one enormous street festival featuring, 130 top-notch juried decorative and visual artists, 80 original bands, singer/songwriters and performance artists performing from 5 different stages, the renowned Pet Parade, and copious food and drink. A party for all of the senses, this unique gathering with tantalizing sights, sounds and flavors showcases everything that makes Deep Ellum the most interesting and evolving neighborhood in the Metroplex. This is an adult-oriented visual and performing arts festival, while supervised young children and teenagers are welcome, there are no planned activities for them.
Admittance to the festival is free.
Located in Dallas' Deep Ellum Entertainment District on the 2600-3100 block of Main Street between Good Latimer and Hall St.
130 decorative and visual artists from around the country will have their distinctive one-of-a-kind works on display. Festival attendees can stroll through displays of cutting-edge decorative arts and admire, commission, and purchase the art of sculptors, muralists, jewelers, painters, and fine artists; some of whom will be creating pieces on the spot.
Free Concerts More than 75 bands and singer/songwriters will perform all original music from five separate open-air stages, reflecting the ever-evolving music scene in North Texas. All stages will be rocking simultaneously with an eclectic mix of genres, including Texas Blues, Rockabilly, Jazz, Funk, Rock and "genre-breaking" bands.
The ArtLoveMagic Artists Alley will feature live painting platforms, acoustic musicians, spoken word poetry and an interactive arts area where festival attendees are invited to roll up their sleeves and join in the creativity.
Featured Artists Jashua, Jerod and Issac Davies, known collectively as the Davies Brothers, invite you to view a large body of their work and experience their creative vision at the festival's "Art Bar" (2821 Main Street), an eclectic adult-oriented performance space featuring murals, live art, body painting, spoken word, acoustic performance, dance, and more.
Street Performers by the Circus Freaks are an engaging and exciting variety of performers who entertain with a mix of theatricality, daredevil foolishness and big top talent. You will find their jugglers, stilt walkers and other whimsical characters roaming the festival throughout the weekend.
Pet owners are invited to take their "Best Friends" on a tail-wagging promenade down Main Street for the popular annual Deep Ellum Pet Parade. Register to be eligible for prizes at the Deep Ellum Bark Park starting Sunday at 11:00am, or just join the parade anywhere along the way. Awards and pet related activities will take place near the intersection of Main Street and Malcolm X starting at 12:00 noon. Well-trained dogs are welcome to the festival all day Sunday only.
New this year, "Taste of Deep Ellum". Signature Deep Ellum restaurants will create a Deep Ellum Village located on Crowdus Street between Main and Elm. Local restaurants will be selling samples of their most popular dishes accompanied by Deep Ellum artists and musicians displaying their works and performing the newest original sounds coming out of the neighborhood.
Festive cuisine, including Mexican, Caribbean, Mediterranean, Asian, American, specialty desserts and other festival favorites will be available throughout the festival site, plus beer, wine, and sodas. In support of festival vendors, no coolers please.
Detailed festival information go online at www.deepellumartsfestival.com